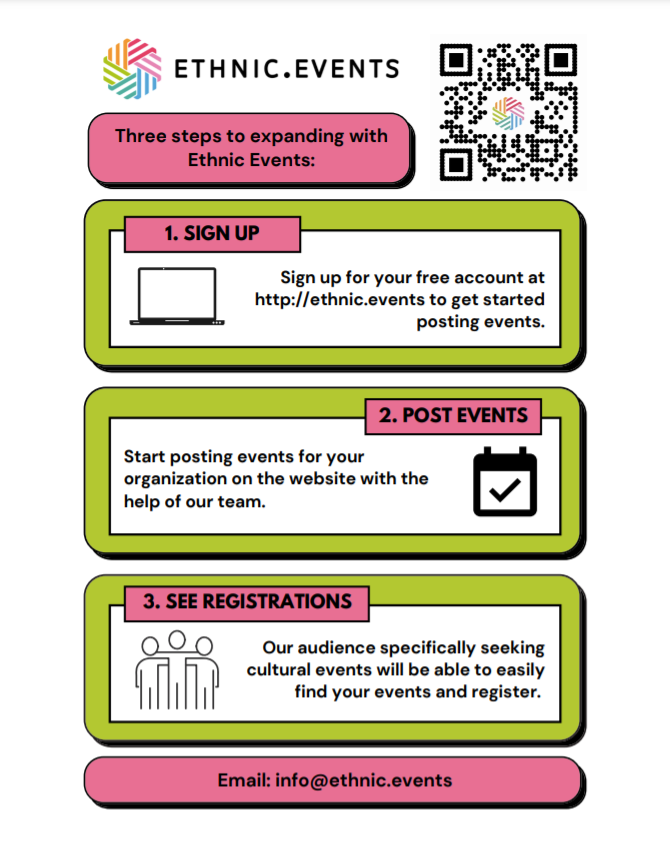 Our mission at Ethnic Events is to help you as an organization expand your reach to a network specifically searching for cultural events. The posts are searchable by culture which makes them easy for our audience to find and attend.
Our mission is to make cultural exploration fun and accessible to all. If you are interested in being featured in customized experiences in our corporate or American Explorer programs, please let us know.
After signing up and posting your organization's events, you will be able to gain visibility from a new crowd and have special opportunities, such as access to community members, marketing, and a featured organizer event. These opportunities and corresponding benefits are listed in the organizer plans for your choice.
We look forward to partnering with you to make cultural exploration possible to everyone anywhere, the way it should be!
The first step is to submit and create an organizer account on the upper right side of the page.
If you have any questions or like to meet with us to discuss your organization needs, please contact us at info@ethnic.events or fill out the form below.